Apple Slab Pie in Buttermilk Pastry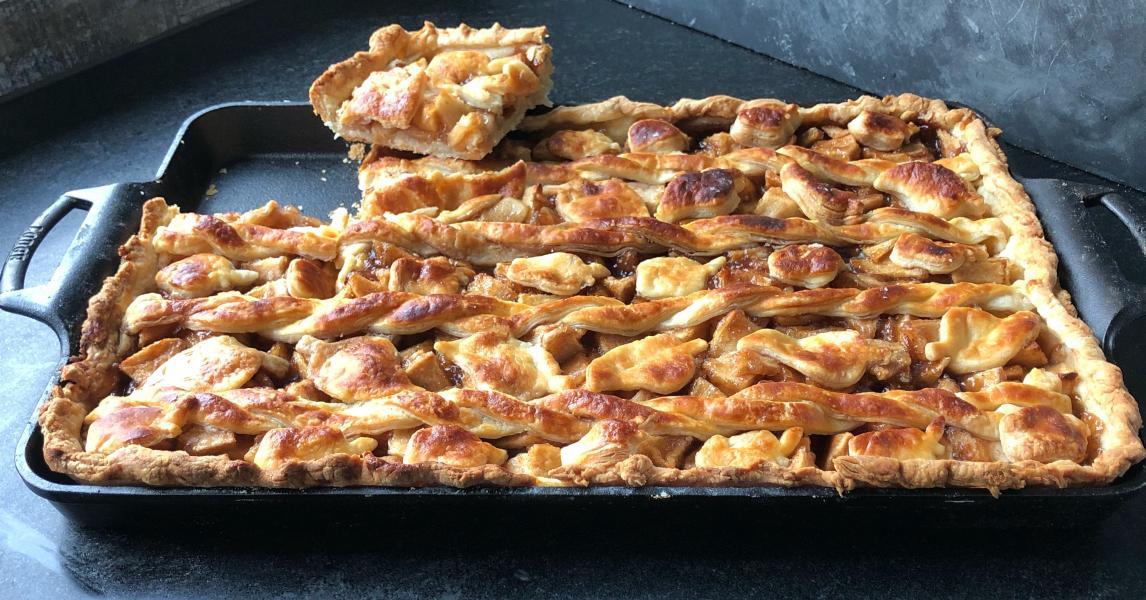 Ingredients
Pie Crust
4 cups unbleached all-purpose flour
1½ teaspoons salt
¾ cup very cold unsalted butter, cut in ½-inch pats
¾ cup buttermilk
Filling
8-10 cups peeled, sliced apples
2 tablespoons Instant ClearJel or 3 tablespoons unbleached all-purpose flour
2 tablespoons fresh lemon juice
¼ cup boiled cider or thawed, undiluted apple juice concentrate
½ cup light brown sugar
¼ cup granulated sugar
¼ teaspoon salt
1 teaspoon cinnamon
½ teaspoon allspice
½ teaspoon nutmeg
2 tablespoons melted butter
Garnish (optional)
milk or buttermilk for brushing the top
granulated sugar for sprinkling
Directions
Pie Crust
In a stand mixer fitted with a paddle, combine the flour and salt. With the mixer running on its lowest speed, add the butter a handful of chunks at a time until it's all in the bowl. Let the mixer run just until the last of the chunks are coated with the flour, about 10 seconds. 
With the mixer on low speed, pour in the buttermilk in a steady stream, mixing just until the dough comes together around the paddle. There should still be some unincorporated bits of flour.
Turn everything out onto a piece of parchment paper. Use the paper to help you fold the dough over onto itself. This will bring it together. It should feel damp to your hands, yet still be just shy of crumbly. Use a spray bottle to spritz any arid, powdery spots just enough to get them to join the dough. 
Pat the dough into an 10 x 12 inch rectangle, wrap it, and place it on a baking sheet or flat plate. Chill the dough for at least 30 minutes while you prepare the filling.
Filling & Garnish
Combine the apples with all of the ingredients listed, except the melted butter. Stir everything together to coat the apples; set aside.
To assemble, take the dough out of the refrigerator and divide it 65/35. Have on hand a 13  x 18 inch sheet of parchment. Dust the parchment with flour and place the larger piece, of dough on it. Dust the top with flour, then roll it out to a 13 x 18 inch rectangle. Roll the dough around your pin and unroll it into the ungreased

 

Cast Iron Baking Pan. Flute the edges to be even with the rim of the pan.
Add the filling to the lined pan and drizzle with the melted butter. Place the pie in the refrigerator while you roll out the remaining dough for the top crust. Preheat the oven to 375 degrees F. 
For a simple crust, roll the dough to a 10 x 13 inch rectangle. From there you can cut out shapes in the sheet of dough to vent steam before placing on top of the filling. For a fancier top, cut strips to weave a lattice or any other pattern you like. 
Brush the top of the pie with buttermilk and sprinkle with granulated sugar for the optional garnish. 
Bake the pie for 50-55 minutes until you see the filling bubbling in the center. Remove from the oven and cool to lukewarm before slicing and serving.
All recipes are the courtesy of Lodge Manufacturing, TN USA