Cinnamon Twists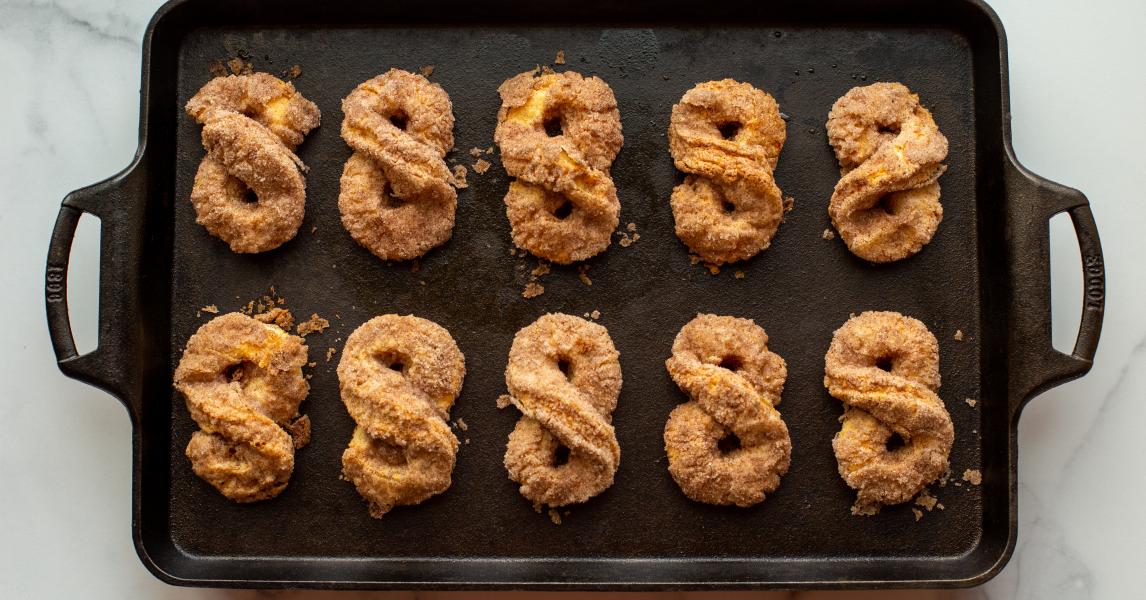 Ingredients
Biscuit Dough
2 cups self-rising flour
¼ cup butter, very cold
⅔ cup milk
Cinnamon Sugar Coating
½ cup butter, melted
1 cup sugar
2 teaspoons cinnamon
Directions
Preheat oven to 450 degrees F. Cut butter into flour until crumbs are the size of peas. Mix in milk with a fork until just combined.
Roll dough into a rectangle on a floured surface about ¼-inch thick.
Cut dough with a lightly floured doughnut cutter. Reserve the dough scraps. Lightly knead the dough back together as needed until you have 9 biscuit rounds.  
Dip biscuits in melted butter and then cinnamon-sugar mixture and coat well. 
Twist once and place on lightly greased griddle or large skillet about 1-inch apart.
Bake for 10-12 minutes. Serve warm.
Kitchen Tips:  
Don't have a doughnut cutter? A thin-rimmed rocks glass and a small shot glass will do the trick.
Have extra dough scraps? Let the family get creative with fun shapes and sizes. Bake time will stay the same.
All recipes are the courtesy of Lodge Manufacturing, TN USA