Blackberry Orange Tart for Two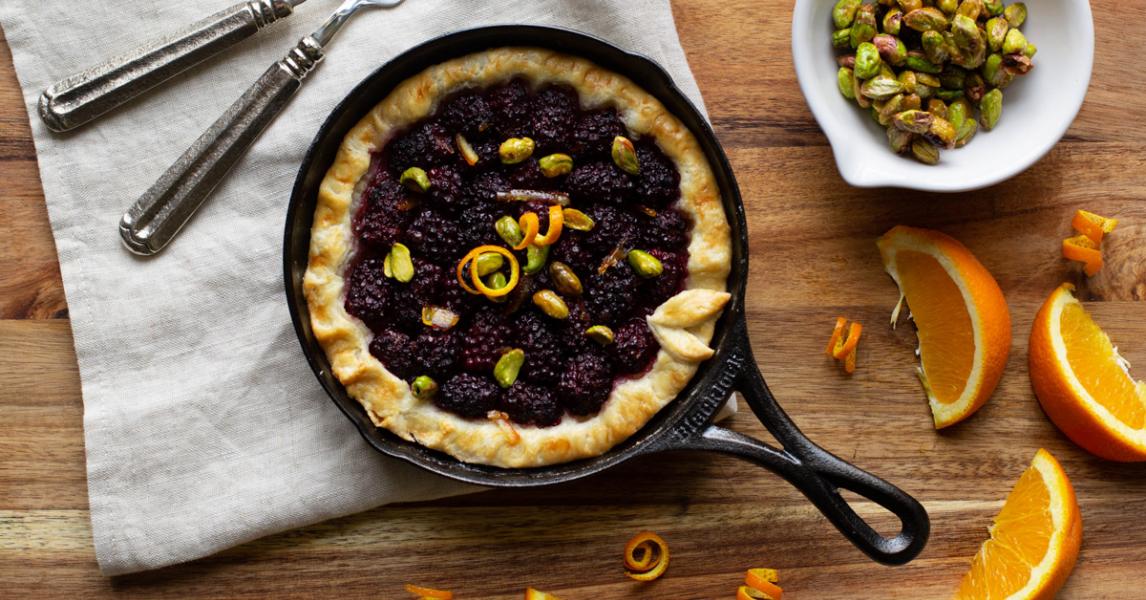 Ingredients
Candied Pistachios
½ cup unsalted pistachios
1 tablespoon sugar
¼ teaspoon salt
1 tablespoon orange juice
Blackberry Tart
½ pie crust recipe
1 cup blackberries
2 tablespoons sugar
1 egg for egg wash
3 tablespoons orange marmalade
Directions
Candied Pistachios
Preheat oven to 350 degrees F. Combine sugar, salt, and one tablespoon orange juice. Mix in pistachios.
Line a baking sheet with parchment paper, bake for 5 minutes. Remove from oven and cool.
Tart
Increase oven temperature to 400 degrees F.
Roll the pie crust until it's ⅛-inch thick and 11 inches in diameter on a floured cutting board. Use a bowl or plate to cut the dough into a 9-inch diameter. Discard the extra.
Place the dough in the

 

7 Inch Blacklock *63* Skillet

 

(the edges should hang over the edge). Roll the edges over to form the crust. Crimp is you wish. Place blackberries in the center of the tart and spread evenly.
Brush the crust with beaten egg. Bake until the crust is golden brown and the berries are bubbly, 25-30 minutes. Split with someone you love — or don't.
All recipes are the courtesy of Lodge Manufacturing, TN USA