Banana Bread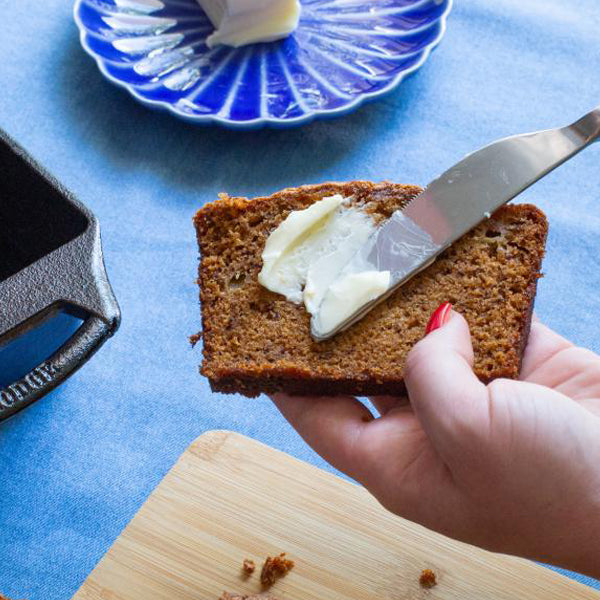 Ingredients
Banana Bread
1½ cups all-purpose flour
½ cup sugar
¾ cup dark brown sugar
1 teaspoon baking soda
¾ teaspoon salt
2 eggs
⅓ cup vegetable oil
¼ cup buttermilk
1 cup mashed ripe bananas
Directions
Preheat oven to 325 degrees F. While the oven is preheating, spray loaf pan liberally with Baker's Joy or a nonstick spray with flour.* 
Combine the flour, sugar, brown sugar, baking soda, and salt in a medium mixing bowl. Whisk together until combined. Set aside.
In a separate bowl, add the eggs, oil, buttermilk, and mashed bananas. Whisk until combined. 
Add the dry ingredients to the wet ingredients and stir together until mixed well. Pour into the prepared loaf pan. Bake for 55-60 minutes. Test for doneness and when toothpick comes out clean, let the bread cool on wire rack in the pan for 5 minutes.
Take a butter knife or offset spatula and run it around the edges of the bread. Next, turn the bread out onto a wire rack and let cool completely before slicing. 
*Pro Tip: Use a pastry brush to make sure you get the Baker's Joy in the corners and up the sides of the loaf pan. 
Notes:
Whole-fat buttermilk is recommended but nonfat buttermilk can be used.
Jazz up your banana bread by adding 1 cup of chocolate chips, peanut butter chips, toasted walnuts or pecans, blueberries, etc.