Cheesy Chorizo Tamale Pie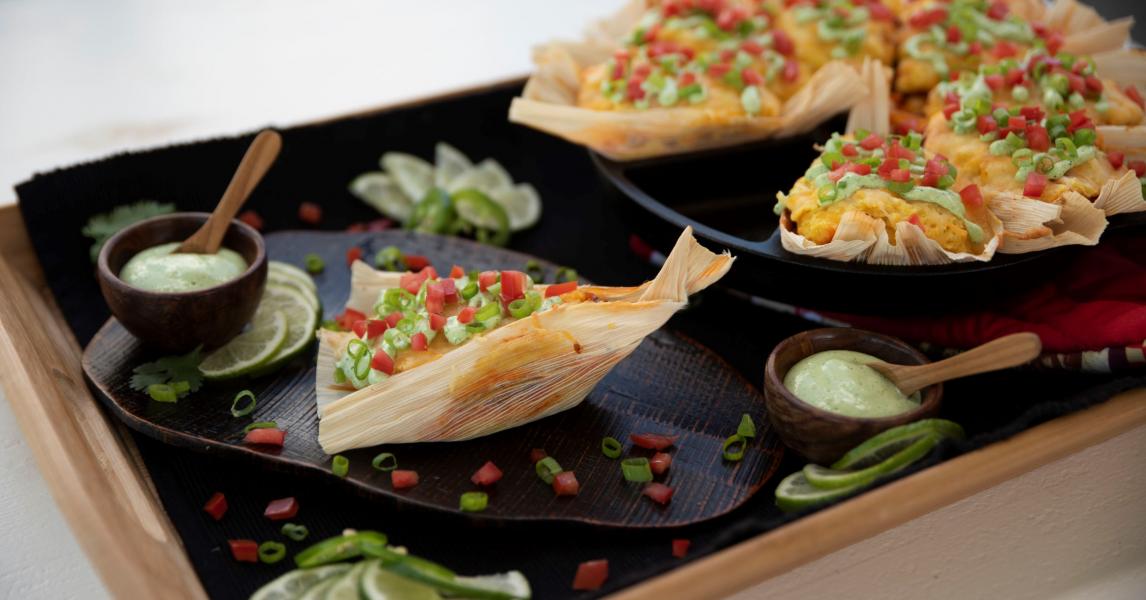 Ingredients
Pie "Crust"
8 dry corn husks
1 quart warm water to soak corn husks
Garnish
1/4 cup thinly sliced green onion, green part only
1/4 cup finely chopped tomatoes, seeded
Chorizo Filling
1 tablespoon vegetable oil
1 cup onion, chopped
1/2 cup each red and green bell pepper
1/2 teaspoon coriander
1/4 teaspoon cumin
1/2 teaspoon sea salt
1/8 teaspoon black pepper
8 ounces ground chorizo
1 tablespoon raw sugar
Tamale Corn Cakes
1 15.25 ounce can sweet corn, drained
1/2 cup butter, melted
2 tablespoons sugar
1/8 teaspoon salt
1/3 cup corn masa harina (fine corn flour)
1 6.5 ounce package Martha White yellow cornbread mix
1/4 cup water
2 tablespoons milk
4 ounces mexican cheese mix, shredded
Cilantro-Lime Drizzle
1/4 cup mexican crema
3 tablespoons cilantro leaves
1 tablespoon chopped jalapeno pepper, seeded
1 tablespoon fresh lime juice
2 tablespoons sour cream
1/2 teaspoon sea salt
Directions
1. Soak corn husks in warm water until softened (about 30 minutes); reserve.
2. In a 12 inch skillet, sauté onion and bell peppers in oil till translucent. Add coriander, cumin, salt, pepper, and chorizo, and cook till browned. Add raw sugar and cook for another couple of minutes. Transfer to a heat-proof dish; reserve.
3. Pre-heat oven to 350 degrees F. In a small blender, blend corn, butter, sugar and salt till creamy. Transfer to a medium bowl and add masa harina, Martha White cornbread mix, water, and milk. Combine well.
4. With kitchen shears, cut softened corn husks to fit cast iron wedge mold with about an inch overhang. Place softened corn husks over a cast iron wedge pan. 
5. Meanwhile, divide the cornbread mixture into two parts and evenly spread half of the cornbread mixture over each corn husk. Top evenly with chorizo mixture, cover with remaining cornbread mixture, sprinkle evenly with cheese, and bake 20 minutes.
6. Use a small food processor or blender to blend crema, cilantro, jalapeño, lime
juice, sour cream, and sea salt.
7. Drizzle tamale pie wedges with cilantro/lime drizzle. Garnish with green onions and
tomatoes. Enjoy!
All recipes are the courtesy of Lodge Manufacturing, TN USA