Chicken Bacon Ranch Pizza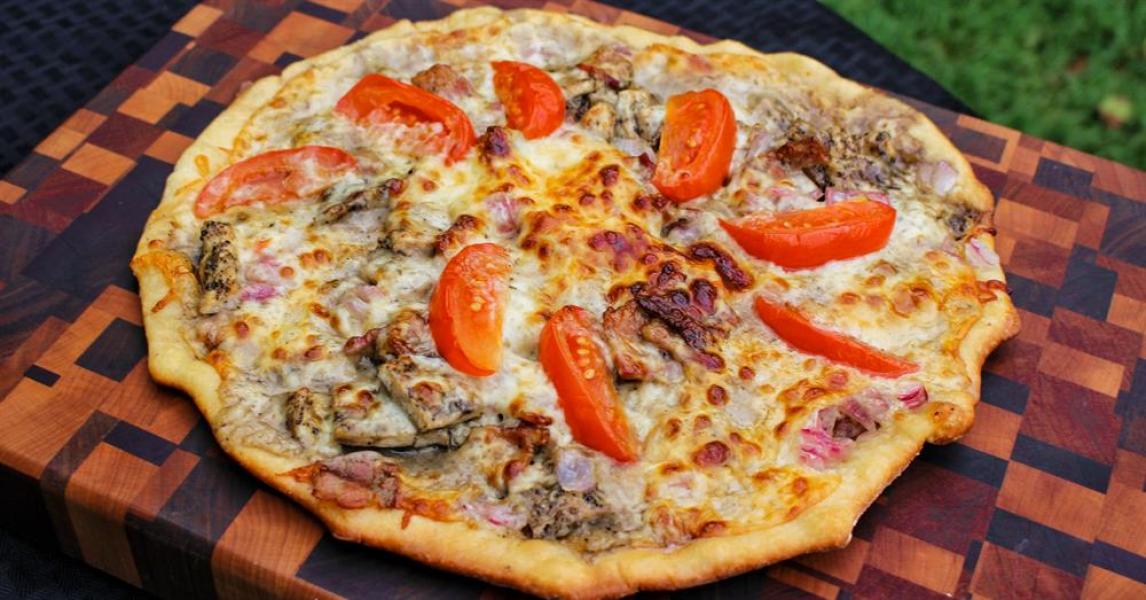 Chicken
3 thin-cut chicken breasts
1 tablespoon dried oregano
2 teaspoons garlic powder
2 teaspoons black pepper
2 teaspoons salt
oil
Pizza
1 pizza dough
flour, as needed
1 ½ cups ranch salad dressing
3-4 slices, bacon
2 roma tomatoes, cut in wedges
½ red onion, chopped
2 cups mozzarella cheese
2 tablespoons green onion, chopped
Directions
Mix the chicken ingredients in a bowl.
Preheat the

 

Cast Iron Cook-It-All

 

grill-side up over the fire. Add the chicken and slices of bacon. Cook the chicken for 4 minutes per side (or until internal temperature reaches 165 degrees Fahrenheit). Cook bacon to desired doneness. Chop cooked chicken and bacon into topping sizes.
Flip the grill so it's griddle-side up and preheat the Cook-It-All dome for 2-3 minutes. Add flour and the rolled pizza dough onto the griddle 
Top with ranch, bacon, chicken, tomatoes, red onion, and cheese. Cover the pizza with the dome then add some additional hot coals onto the dome. 
Cook for a couple of minutes or until crust is golden brown. Top with more ranch and green onions. Enjoy!
All recipes are the courtesy of Lodge Manufacturing, TN USA