Chickpea Soup With Turmeric and Ginger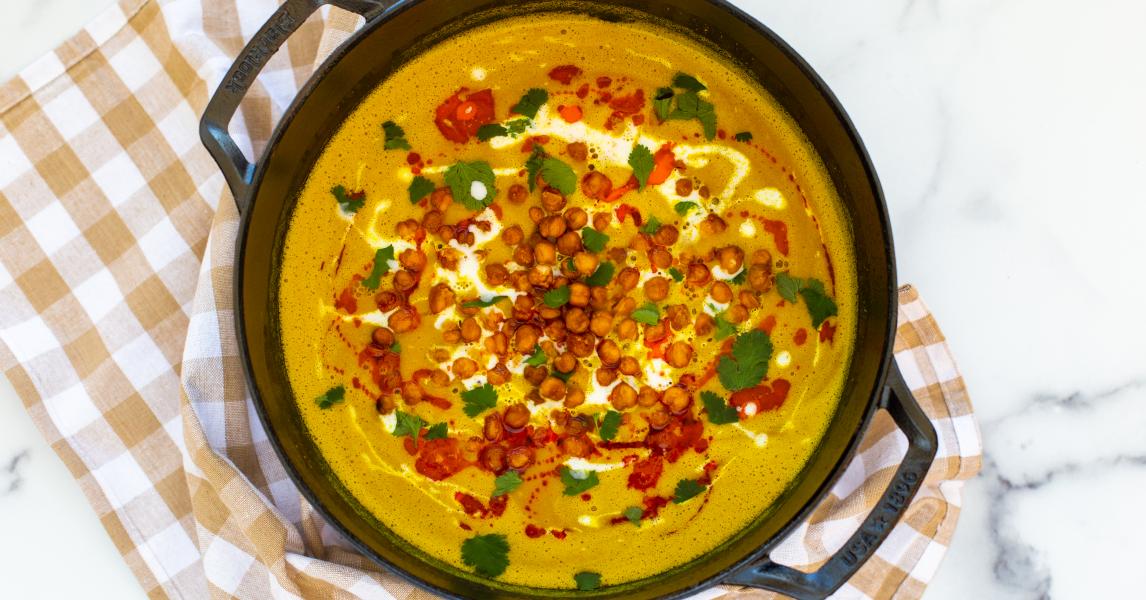 Ingredients
Crispy Chickpeas
1, 15-ounce can chickpeas
1 tablespoon turmeric
½ teaspoon salt
Soup
4 tablespoons olive oil
1 large onion, diced
6 cloves garlic, minced
2 tablespoons ground ginger
2 tablespoons turmeric
⅛ teaspoon cayenne pepper (optional)
2 teaspoons coriander
2 teaspoons salt
2, 15-ounce cans chickpeas, drained and rinsed
8 ounces yukon gold potatoes, peeled and diced into ½-inch cubes
8 cups vegetable broth
1, 15.5-ounce can coconut milk, separated
1 lime, juiced
1 tablespoon agave
cilantro and chili oil for garnish
Directions
Crispy Chickpeas
Preheat oven to 375 degrees F.
Drain and rinse one can of chickpeas. Spread over a paper towel to dry. Toss with olive oil, turmeric, and salt.  
Bake on a parchment-lined cookie sheet or baking pan for 35 minutes or until crispy. Stir halfway through baking.  
Remove from the oven and cool before serving. 
Soup
Heat 4 tablespoons of olive oil over medium-high heat, 3-5 minutes. Add onion and cook until softened, 7-10 minutes. Add garlic and continue to cook stirring often, 2 minutes. 
Next, add 2 cans of chickpeas to the hot oil and stir for 3 minutes. Stir in salt, spices, and potatoes until evenly coated. Add vegetable broth, cover and bring to a boil.  
Reduce to a simmer and cook, covered, for 30 minutes, stirring as needed.
Add 1 cup of coconut milk and 1 tablespoon agave. Reserve the remaining coconut milk for garnish.
Using a stick blender, puree the soup until velvety smooth. (Alternatively, you can puree the soup in batches in a blender or food processor.)   
Continue to simmer uncovered for 15 minutes, the soup should thicken slightly.   
Ladle into bowls and garnish with coconut milk, crispy chickpeas, cilantro, and chili oil (optional).
 
All recipes are the courtesy of Lodge Manufacturing, TN USA