Cornbread Panzanella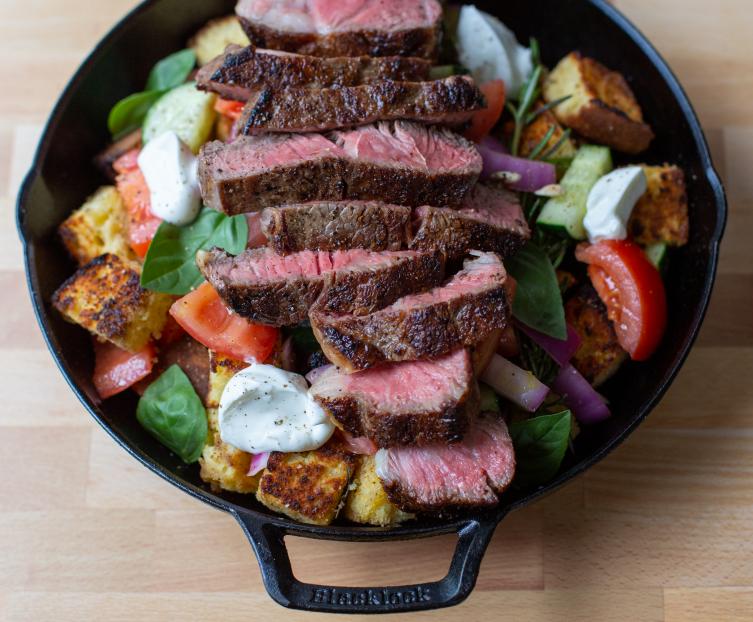 Ingredients
1-2 large steaks
6-10 1-2 inch cubes cornbread, preferably day old
1 sprig thyme
1 sprig rosemary
2-3 ripe tomatoes, cut into large chunks
2 cucumbers, cut into large chunks
1/2 red onion, thinly sliced in half moons
1 sprig fresh mint
3 ounces extra virgin olive oil
2 ounces red wine vinegar
Salt and pepper
Whole fat plain yogurt
1 sprig fresh basil
1/2 whole lemon
Directions
Cook steak to desired level of doneness, using preferred method, in a cast iron skillet. Allow to rest. 
Toast cornbread cubes in the skillet with steak drippings. Add sprig of thyme and rosemary to the skillet. Gently toast cornbread croutons in the drippings from the steak until golden brown. Remove cornbread from the skillet and allow to drain on a paper towel.
In a separate bowl, combine tomatoes, cucumbers, red onions, torn mint leaves, olive oil, and red wine vinegar. Season with salt and pepper.
Place cornbread on a serving dish and pour seasoned tomato mixture over toasted warm cornbread. Top with optional whole fat plain yogurt, preferably 3-4 small dollops around the dish.
Slice steak and serve immediately on top of cornbread and tomato salad.
Garnish with torn basil leaves, black pepper, sea salt, squeeze of lemon and olive oil.  
All recipes are the courtesy of Lodge Manufacturing, TN USA