Honey Butter Dinner Rolls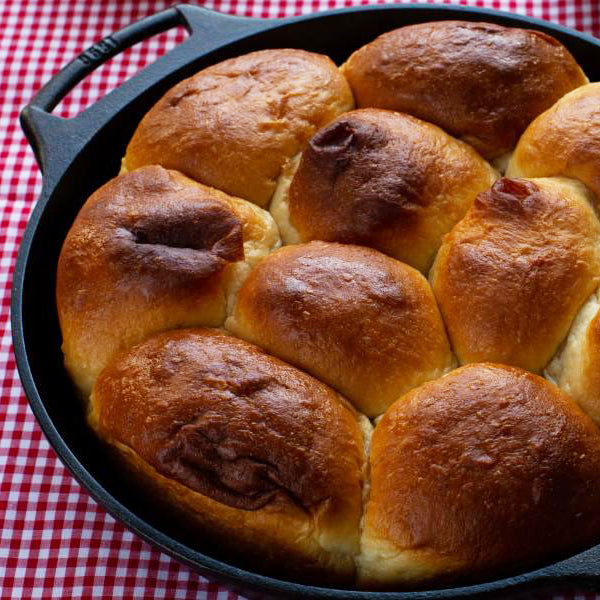 Ingredients
Rolls
1 cup whole milk, heated to 105 - 110 degrees F
1½ teaspoons active dry yeast
¼ cup honey
2½ cups bread flour
⅓ cup potato flakes
1 large egg, beaten
1 teaspoon salt
4 tablespoons unsalted butter, room temperature
Honey Butter Topping
1 tablespoon butter, unsalted and melted
1 tablespoon honey
Directions
Combine the milk, yeast, and honey in a small bowl. Let stand 5 minutes or until bubbles start to form. Pour the milk mixture into the bowl of a stand mixer. Next, add the remaining ingredients and with the dough-hook attachment, combine all the ingredients until it forms a dough. Knead the dough on medium speed for 5-7 minutes until the dough is smooth and pulls neatly away from the bowl. 
Lightly spray a large mixing bowl with nonstick spray and place the dough in the bowl, turning once to coat the dough ball with oil. Cover the bowl with a clean dishtowel or plastic wrap and let it proof until it doubles in size, 30-45 minutes. 
Deflate the dough gently by punching it down a few times. Remove the dough from the bowl and roll into a 10-inch rope. Cut 10, 1-inch pieces of dough and then roll into balls.
Lightly grease the 10.25 Inch Baker's Skillet with oil and arrange the dough balls in the skillet. Loosely cover the skillet with a clean dishtowel or plastic wrap and allow to rise 30-45 minutes. Preheat oven to 375 degrees F. 
Brush the top of the rolls with the honey butter mixture and place into oven and bake for about 20-25 minutes or until golden brown.
Remove from oven and while rolls are still warm, brush with the remaining honey butter mixture.
Notes:
Best served warm with more butter! 
Want to switch it up? You can substitute the honey butter topping for something more savoury. Simply melt the butter, spread it over the rolls, and sprinkle on garlic and your herb of choice.