Korean Fried Chicken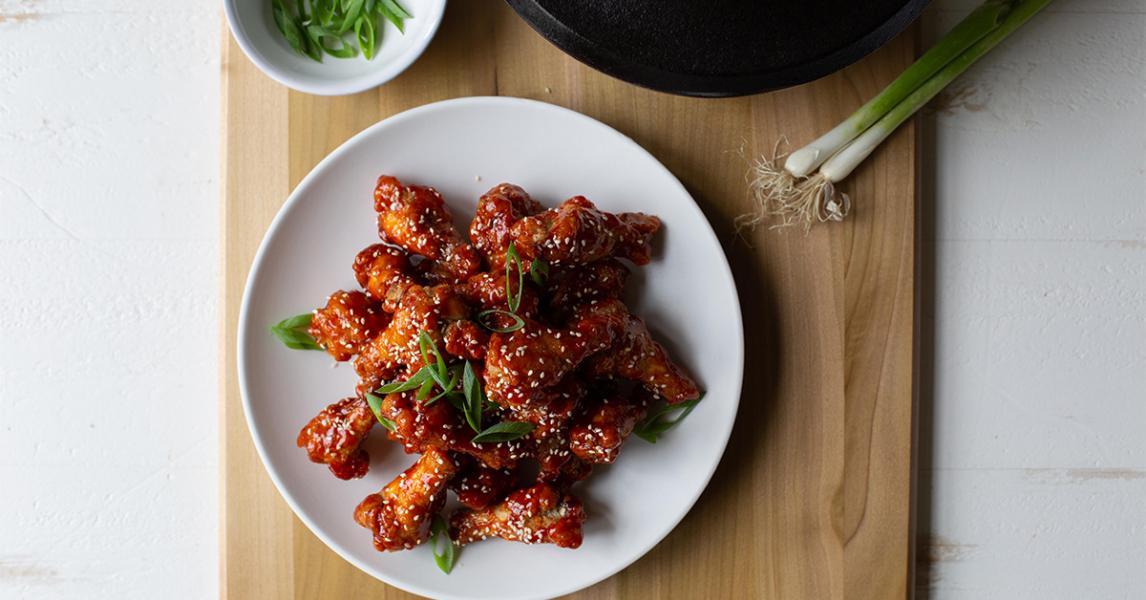 Ingredients
Wings
2 pounds chicken wings
6 cups vegetable oil
1 teaspoon salt
¼ teaspoon pepper
½ teaspoon baking powder
½ teaspoon granulated ginger
½ teaspoon garlic
⅔ cup cornstarch
Sauce
3 tablespoons ketchup
3 tablespoons gochujang (chili paste)
¼ cup honey
¼ cup sugar
2 tablespoons soy sauce
1 tablespoon sesame oil
Garnish
Sesame seeds
Green onion, sliced
Directions
Mix together salt, pepper, baking powder, granulated ginger, and garlic. Toss chicken wings with seasoning mixture and refrigerate.
Stir together ketchup, gochujang, honey, sugar, soy sauce, and sesame oil in a medium saucepan. Heat over medium until sauce starts to boil. Remove from heat.
Heat 6 cups of vegetable oil to 325 degrees Fahrenheit. Toss chicken wings in cornstarch and shake off excess. Fry in batches for 7-10 minutes. Remove to a plate lined with paper towels
Once all wings have been fried once, increase oil temperature to 350 degrees Fahrenheit and fry again, 5 minutes.
Toss with sauce and garnish with sesame seeds and green onions.
All recipes are the courtesy of Lodge Manufacturing, TN USA