Mee Goreng Stir Fried Noodles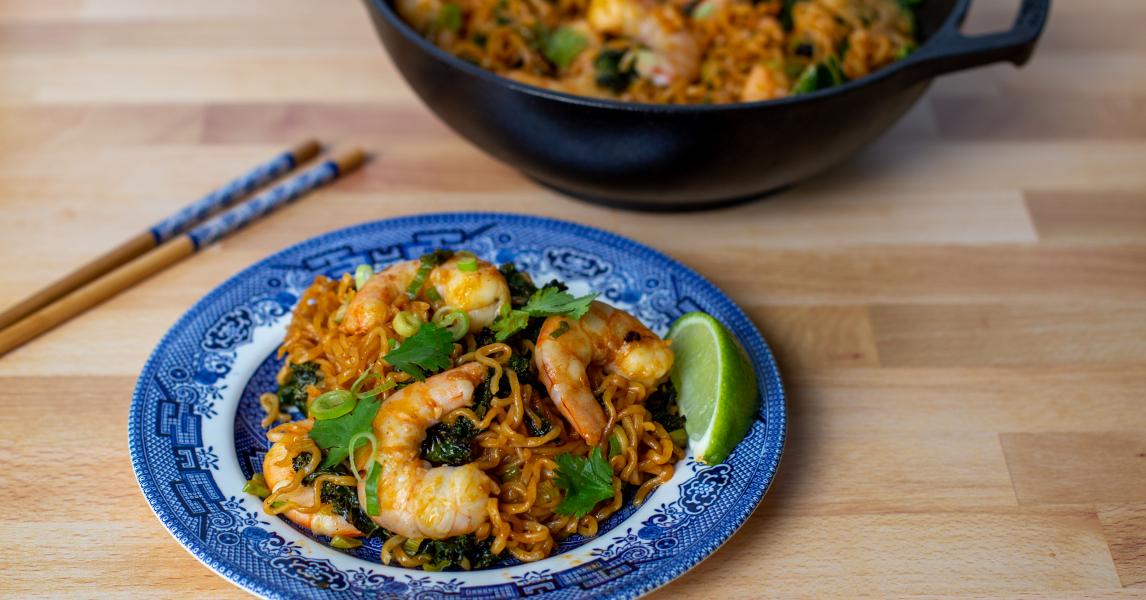 Ingredients
Sauce
1/4 cup soy sauce
1/4 cup ketchup
1 tablespoon sesame oil
2 tablespoons sambal or sriracha
2 tablespoons dark brown sugar
2 ramen spice packets
Stir Fry
2 tablespoons cooking oil
1/2 pound meat or seafood
4 cloves garlic, thinly sliced
1 serrano chili, thinly sliced
2 cups leafy greens, frozen or fresh, mustard greens, spinach, kale, or cabbage
2 packs instant ramen noodles
1 bunch scallions, cut in 1/2 inch tubes
5 sprigs cilantro, leaves diced, stems chopped
1 lime, cut in half
Directions
In a mixing bowl, combine all ingredients for sauce and mix thoroughly. Set aside. 
In a hot wok, add oil and brown your meat. 
Add garlic and chilis. Stir fry for 1 minute.
If you are adding additional ingredients, add them next. 
Add mustard greens. Stir fry for 3 minutes. 
Remove from heat and set aside.
In a separate pot, bring water to a boil. 
Boil ramen noodles to packet specifications. Usually, 4-5 minutes for al dente.
When noodles have 1 minute left to boil, turn wok back on to high heat and add scallions. 
Remove noodles from water, drain thoroughly, and add too wok. Stir fry for 2 minutes.
Add sauce and stir fry for additional 2 minutes. 
Remove from heat, add cilantro, and a squeeze 1/2 of lime over top. 
Serve immediately with lime wedges. 
All recipes are the courtesy of Lodge Manufacturing, TN USA