Salted Chocolate Crinkle Cookies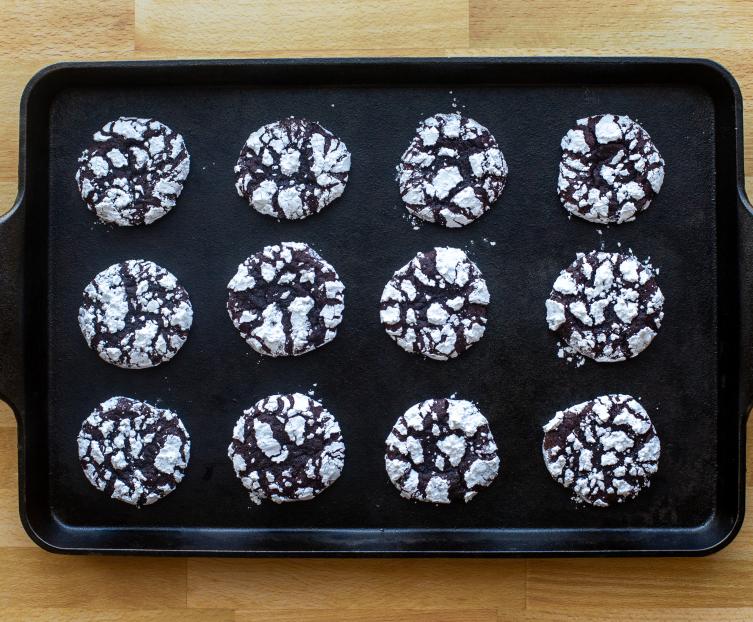 Ingredients
1 cup all-purpose flour
¼ cup dark cocoa powder
2 teaspoons baking powder
¼ teaspoon salt
2 eggs
½ cup sugar
¼ cup vegetable oil
½ teaspoon vanilla
1 cup powdered sugar (for rolling)
Directions
Sift flour, cocoa, baking powder and salt together.
Beat eggs with oil, sugar, and vanilla until smooth.
Fold flour mixture into egg mixture until smooth. Cover and refrigerate for 1 hour.
Preheat oven to 350 degrees F.
Place powdered sugar in a small shallow baking dish. Spoon 1 tablespoon of batter into the powdered sugar and roll into balls. Be liberal with the amount of sugar rolled on the dough.  
Grease baking pan and set cookies 2 inches apart. 
Bake for 10-12 minutes. Set cookies on a cooling rack for 15 minutes.  
Allow the baking pan to return to room temperature before baking the second batch.
All recipes are the courtesy of Lodge Manufacturing, TN USA